Answer 1
Assuming the worst possible arrangement where all the yellows are where the reds should be (and vice versa), with the added problem of the black ball being out of position. Such an arrangement is shown in Fig 3 below. You would require 1 swap to get the black into position and then 7 swaps to swap over the 7 pairs of reds and yellows. Total: 8 swaps.
Here's an example of the worst case arrangement requiring 8 swaps.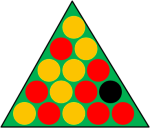 Answer 2
Previously it was possible for all reds and yellows to be out of position. But with the alternative arrangement it isn't possible for more than half of all red and yellow balls to be out of position because if they're out of position for one arrangement they are, by definition, in the correct position for the other arrangement. For example, Fig 3 shows something which is 8 swaps away from the 'correct' arrangement, but is only a single swap away from the 'alternative' arrangement.
The answer is that in the worst case a single swap is needed to get the black into position, followed by 3 swaps to get the remaining colours into one or other of the two arrangements. Total: 4 swaps.
Here's an example of a worst case starting arrangement requiring 4 swaps.