A definitive guide to architecting and deploying telco-grade cloud infrastructures
Unlike the simple virtualization of network functions in the form of software appliances deployed in virtual machines, the cloud native approach is truly transformative. Fully automated life-cycle management of network functions, instant deployment of 5G core network slices at any scale, management of configuration as code, portability across private and public cloud stacks, and DevOps-style continuous innovation will together bring stunning improvements in network operations efficiency and customer-facing responsiveness. That is the promise of the cloud native approach to NFV. Network operators who have the courage to embrace cloud native, and do so quickly, will surely emerge as the winners of the future.
Cloud Native Network Functions
Not only does the industry broadly agree on the reasons for the failure of NFV to date, it also agrees about the right way forward. This is to build network functions as software systems designed from the ground up for the cloud, in the same way as the big Web-scale players would approach the problem: the so-called cloud native approach.
However, these differences are so great that it's not technically or economically feasible to evolve a legacy VNF to become a CNF. In other words, to build a CNF, you have to start from scratch. But what exactly are these differences? What truly distinguishes a CNF from a VNF? These are the questions that this white paper explores in depth.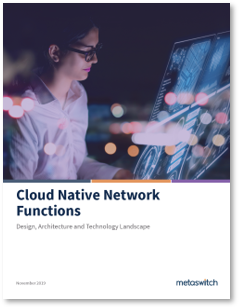 Download your copy now
The Cloud Native Telco
The ultimate promise of NFV will only be realized with new network function software systems that are designed from the ground up to exploit the power of the cloud: so called "cloud native." 5G infrastructures, for example, are crying out for a radical new approach to NFV. The far greater capacity provided by the 5G RAN will drive up traffic volumes dramatically, but with no increase in ARPU, necessitating steep reductions in cost per bit.
This white paper covers what it's like to work with CNFs versus VNFs from an operations standpoint, why the cloud native approach is so superior, and how fixed line and mobile network operators can make a successful transition from VNFs to CNFs.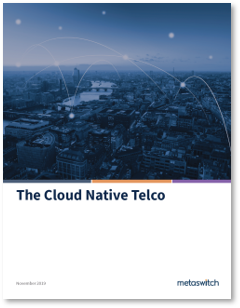 Download your copy now