Metaswitch DC-EVPN, combined with DC-BGP and DC-Label Manager, delivers a complete Ethernet VPN solution architected to serve the requirements of service provider access and data center interconnect applications.
Layer 2 VPNs are widely deployed in service provider networks where Virtual Private LAN Service (VPLS) is one of the most common technologies used for providing Layer 2 VPN services to enterprise customers and for Data Center Interconnect (DCI). However, VPLS but lacks several features – such as MAC mobility, active-active redundancy, and fast convergence – that are of particular importance to Data Center networking. RFC 7423 addresses these limitations by defining an operation of a new Layer 2 VPN solution based on BGP and MPLS called Ethernet Virtual Private Network (EVPN).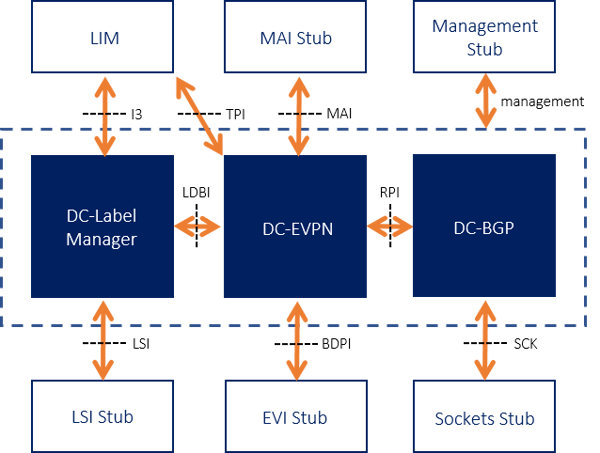 Metaswitch's DC-EVPN component support the creation of both MPLS and VXLAN based EVPNS. DC-EVPN features include:
MPLS-based EVPN
When used in combination with the Metaswitch products detailed above, DC‑EVPN enables support for an L2VPN capable of carrying unicast IP traffic by supporting the following EVPN features.
Elimination of unknown unicast flooding in the provider network by using control plane MAC learning using the MAC/IP advertisement route.
Per-MAC label assignment.
Single homing of customer devices.
Port-based and VLAN-based service interfaces.
Elimination of ARP flooding in the provider network by advertising IP addresses in MAC/IP Advertisement Routes and using ARP proxy as defined in RFC 7432 section 10.
VXLAN-based EVPN
DC‑EVPN supports the following features for VXLAN-based EVPN.
Provision of P2P and MP2MP EVPN services over a VXLAN data plane.
Support for the BGP Encapsulation Extended Community.
Support for single subnet per-EVI service interfaces.
Support for control plane MAC learning using the MAC/IP Advertisement Route.
Support for BUM traffic using the Inclusive Multicast Route and ingress replication.
Enabling ARP proxy operation through advertisement of IP addresses in MAC/IP Advertisement Routes.
Support for MAC mobility using the MAC Mobility Extended Community.
Multi-homing of customer devices.
Support for Asymmetric Integrated Routing and Bridging (IRB).