The GSMA's Rich Communications Suite (RCS / RCS-e) of services (Joyn) presents an opportunity for service providers to stage an offensive strike against competing over-the-top (OTT) telephony applications.
RCS enables service providers around the globe to offer their subscribers instant messaging, presence and availability services - built around the globally-unique MSISDN - that are as ubiquitous as SMS is today. With cross-platform support that includes PCs, users can also share files, photos or video either inside or outside the context of a phone call. Most importantly, with an optional centralized network address book, RCS enables service providers to safely and securely maintain their customer's contact list.
Deploying these RCS services presents service providers with a unique set of challenges. Delivering on the promise of RCS requires a fundamental re-engineering of a service provider's core session control infrastructure. The adoption of RCS-e and then RCS will result in an explosive grown in SIP IM and presence methods, such as Invite, Options, Subscribe and Notify packets, which will significantly outpace the growth in media traffic – even as SBCs evolve to support MSRP-based session mode IM and file sharing.
Traditional SBCs not equipped to deliver RCS
The hardware and software of first-generation SBCs was designed to handle voice-only traffic – a scenario where each average user requires 35 SIP messages and 8MB of media bandwidth per day. Constrained by proprietary hardware, these SBCs are stuck providing this ratio between signaling and media traffic. They can't adjust to the explosion of SIP traffic we see today and in the future with RCS networks.
Perimeta, from Metaswitch Networks, is the first in a new generation of SBCs designed specifically to address these problems in small to large wireless or wireline networks.
Perimeta: an SBC architecture built for RCS
Perimeta SBC balances signaling and media more intelligently to support the requirements of RCS. In an integrated or distributed deployment, Perimeta is a cost-effective, powerful and flexible SBC solution for RCS networks.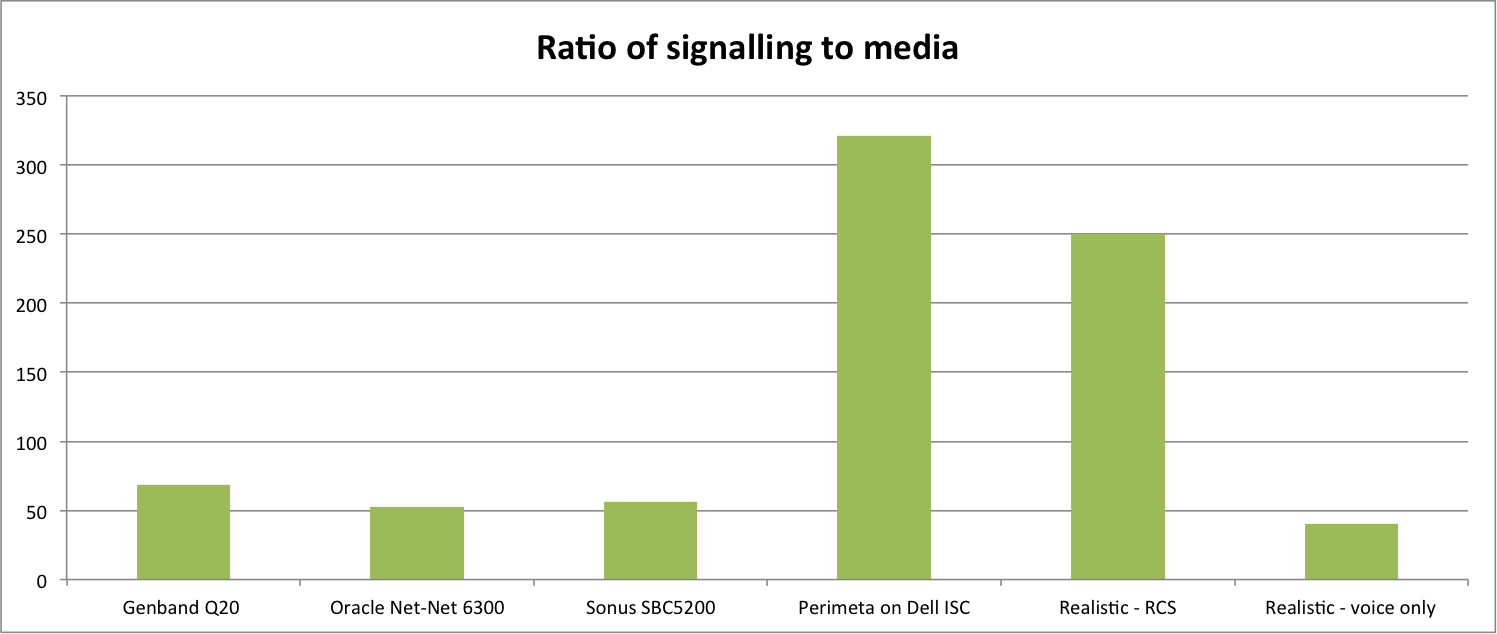 Integrated SBC supports explosion in SIP signaling traffic
Perimeta Integrated Session Controller (ISC) is the only integrated SBC with the signaling capabilities to handle the explosion in SIP signaling traffic in tomorrow's networks.
The ratio between signaling and media traffic is much higher for RCS networks than for voice-only networks. As shown in the graph Ratio of signaling to media (right), integrated SBCs from other leading vendors support ratios comparable to a realistic voice-only network, so to meet the signaling requirements of an RCS network a service provider would have to run multiple SBCs in parallel, potentially wasting media capacity, capital investment and running costs. Unlike traditional SBCs, Perimeta ISC running on the powerful Dell 620 server supports a ratio beyond what a realistic RCS network might require.
Distributed architecture scales signaling and media independently
Perimeta is built on a distributed architecture to balance signaling and media intelligently across the platform. With two SBC components that operate autonomously to support the distinct tasks of signaling and media control, Perimeta is designed to independently scale these individual functions to meet the demands of new RCS applications and services.
Featuring the highest signaling message throughput capacity in its class, Perimeta allows service providers to scale centralized Signaling Session Controller (SSC) functionality with or without adding additional co-located or geographically dispersed Media Session Control (MSC) capacity.
Only Perimeta has the scalable signaling capacity to make RCS and the future of communications networks a reality today.