For the first time, the advent of 5G is allowing mobile technology to intersect with the demands of fixed line services and price points. Fixed Wireless Access (FWA) enables network operators to deliver ultra-high-speed broadband to suburban and rural areas, supporting home and business applications where fiber is prohibitively expensive to lay and maintain.
The cost and complexity of delivering fixed broadband has continually challenged the roll-out of high-speed data services. While technologies such as WiMAX have attempted to bypass the local loop or prevent the fiber trench, these initiatives largely failed - primarily because they demanded a completely new overlay infrastructure and expensive proprietary equipment. In contrast, 5G Fixed Wireless Access (FWA) employs standardized 3GPP architectures and common mobile components to deliver ultra-high-speed broadband services to residential subscribers and enterprise customers.
Featuring New Radio (NR) in the millimeter wavelength (mmWave), 5G FWA can provide a competitive alternative to fixed-line DSL, Cable and fiber across all markets. This provides the means by which suburban and rural consumers can receive the bandwidth required to support high definition streaming services and high speed Internet access.
A Viable Alternative to Fiber, Cable and DSL
As the deployment of mobile 5GNR mmWave is already requiring the acquisition of new spectrum, of right-of-way, easements and use grants - closer to end users than we've witnessed previously - network operators naturally want to spread the cost of installation and maintenance across as many applications as possible. Along with providing enhanced Mobile Broadband (MBB) for consumers and serving massive low-latency IoTsmart sensor grids for autonomous automation, these microcells provide the perfect platform for delivering almost ubiquitous FWA coverage.
Analysys Mason predicts the larger opportunity for FWA to be in emerging countries, where fixed broadband is not prevalent today. However, FWA will become a competitive force against slower and more expensive wireline alternatives in developed countries as well. There is already proving to be a large potential market around the globe for enterprise connectivity.
In areas where wired broadband access is currently cheap and prolific, FWA may simply be employed for supporting SD-WAN traffic bursting and backup. In other regions, however, FWA availability may solve a more fundamental problem. Jio recently noted that there are over 51 million small businesses in India of which only 1 million have access to wireline broadband connectivity. This severely limits not only their individual outlook for expansion but India's economic growth potential.
The biggest opportunity, however, could well be in the worldwide residential market. The ITU-T estimates that less than 50% of the 2+ billion homes are served by fixed broadband access technologies. Today, 4G LTE offerings can be accessed by nearly 90% of those households and in the near future 5G coverage could exceed 60%, as rollouts ramp-up.
While serving rural markets and developing nations is still a costly proposition, Governments around the globe stand ready to provide aid. In the USA, for example, phase two of the Connect America Fund (CAF) is supporting broadband initiatives in underserved communities. The Connecting Europe broadband fund is performing a similar role for underserved populations in EU member countries. The standards-based nature of 5G FWA makes the prospect of supporting such deployments far more attractive, to the managers of these funds, than the previous proprietary alternatives.
Fixed Wireless Access is an anchor service offering that can be exploited by not only by existing Mobile Network Operators (MNOs) with licensed spectrum but by greenfield carriers or classic fixed-line providers. In the latter instances, independent 5G network slices can be quickly created and granularly scaled by larger MNOs to support these Mobile Virtual Network Operators (MVNOs) who may not own mobile infrastructures or spectrum of their own.
FWA Advantages
Previous FWA initiatives failed due to the proprietary nature of the technology they employed. This resulted in a poor ecosystem of equipment vendors and support, which consequently reduced competitive choices and increases prices. In contrast, the 5G supplier ecosystem is already large and continually growing, with the addition of standardized User Equipment (UE), merchant silicon and mobile networking equipment that can be reused for FWA with no modification.
5G Fixed Wireless Access in the lower bands of the wireless spectrum can be used to quickly and cheaply deliver an alternative to wired broadband. In the millimeter wavelengths, 5G FWA can provide a level of service bandwidth capacity comparable to fiber optics. These narrow beams also enable a higher density of users without causing interference. While mmWave penetration through common building materials - including newer types of glass - is low, Customer Premise Equipment (CPE) with antenna's external to the home or office can dramatically mitigate signal degradation. Unlike wired local loops, these could still be readily self-installed by business or residential subscribers.
Providing more than simply a path to enhanced Mobile Broadband, FWA built on a true 5G core lays the groundwork for entirely new service offerings requiring low latency while demanding high bandwidths.

High-level characteristics of proposed 5G frequency bands
Of the three primary frequency bands envisioned around the globe for the purpose of 5G, those in the mid Ghz range are most appropriate for FWA. Providing superior coverage and moderate throughput, the 3.4-3.8 GHz band is appropriate for low density suburban or rural areas. While exterior antennas would still likely be required, the 24.25 to 27.5GHz range is suitable for serving higher density suburban locales and cities. Unlike its mobile counterpart, 5G FWA CPE is not space or power constrained and can therefore employ Multiple Input Multiple Output (MIMO) antennas and beamforming techniques on the uplink (UL) at different frequencies to the Downlink (DL), thereby improving upload throughputs.
FWA Deployment
Initial Fixed Wireless Access trials using 5G New Radio employ a classic Evolved Packet Core (EPC) infrastructure for data transport and control information. Commonly referred to as Option 3x, the new gNodeB's (gNB's) supporting FWA and other early 5G deployments operate in a Non-Standalone (NSA) manner alongside the existing 4G eNodeB. Option 3 reduces deployment risks and variables when first implementing 5G FWA.
However, the granular nature of 5G antenna distribution, along with the high bandwidth streaming applications being delivered over FWA services, will quickly necessitate more capacity in the access network plus a far greater density of distributed user plane aggregation points.
LTE Control and User Plane Separation (CUPS) techniques can provide a partial solution to these problems but involve prolonging a predominantly hardware-centric approach to delivering the data plane. This is an expensive and complex proposition which will also have the effect of prolonging the migration to a true cloud native 5G Core, as outlined in industry standards and specifications.
In contrast, a 5G User Plane Function (UPF) deployed within a highly automated Multi-access Edge Compute (MEC) cloud environment (with dynamic scaling and autonomous network slicing) can truly meet the prerequisites of a Fixed Wireless Access infrastructure.
With this cost-effective data plane in place, the adoption of a complete 5GC control plane Service Based Architecture (SBA) can be dramatically simplified: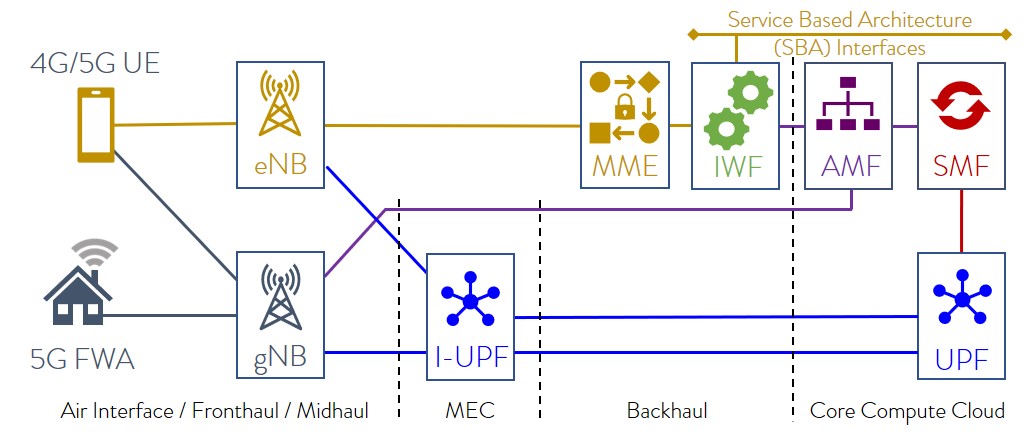 5G FWA architecture with 4G interworking to a 5GC
By eliminating the need to update existing Radio Access Network (RAN) equipment or completely eradicate the 4G control plane, a 4G/5G Control Plane Interworking Function (CP-IWF), implemented northbound of the Mobility Management Entity (MME), would complete this approach to enabling existing mobile LTE users to exploit the 5G Core infrastructure alongside FWA subscribers.

Click here to learn more about our 5G Core solutions.