Today's wireless and wireline infrastructures are served by completely disparate aggregation and core networks, which feature their own distinct control plane, user plane and service delivery functions. These include authentication, accounting, IP address management, policy control and lawful intercept. With most worldwide operators supporting both access technologies, a clear migration path to wireless and wireline convergence in the core will simplify provisioning and reduce capital and operations expenditures. Furthermore, 5G New Radio (5GNR) fixed wireless access (FWA) can complement (i.e. backup) or replace copper or optical alternatives. Add increased subscriber mobility and the desire to deliver a consistent service experience - regardless of how users are connected - and the need for a common core is clear.
The GSMA's 3rd Generation Partnership Project (3GPP), the Broadband Forum (BBF) and CableLabs have united to create technical reports and specifications defining the services and systems required to support 5G wireless and wireline convergence (5G WWC) architectures. Their resulting work is detailed within BBF's TR-456 (Fixed Mobile Convergence / FMC) and CableLabs WR-TR-5WWC-ARCH and rolled-up within 3GPP Release 16 Technical Specification TS 23.316. The IETF have also been engaged in providing guidance around user plane protocol revisions while the IEEE, ITU-T SG15 and Metro Ethernet Forum (MEF) have been engaged with timing/synchronization requirements and other service specifications.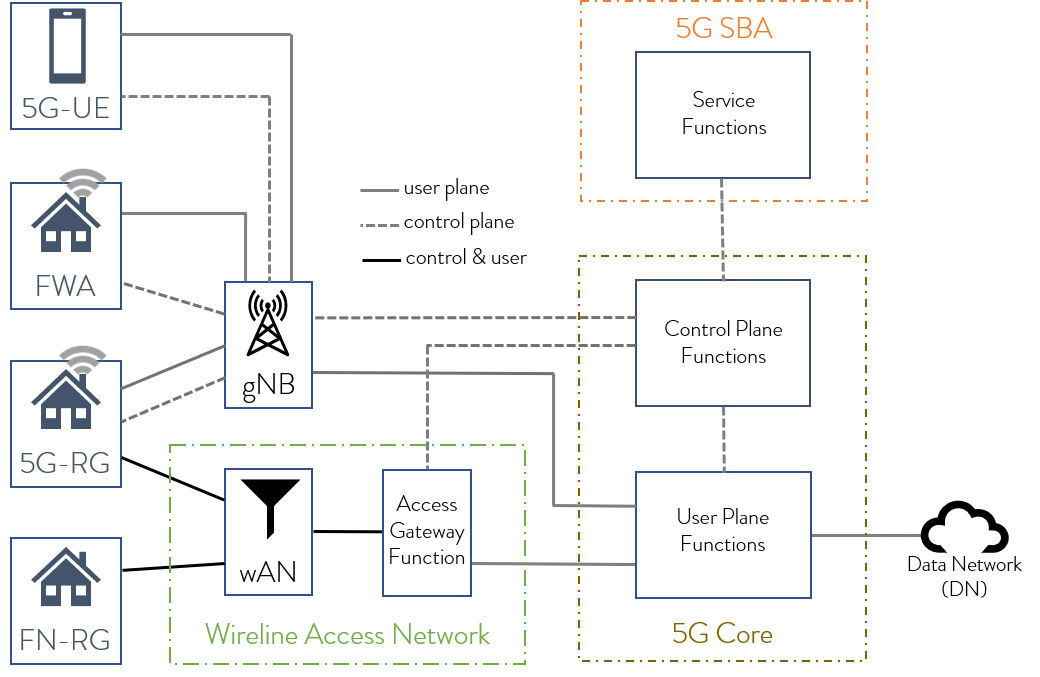 The Access Gateway Function (AGF) supporting wireless wireline convergence in a 5G Core
These standards specify an Access Gateway Function (AGF) to deliver the functionality previously afforded by Broadband Remote Access Servers (BRASs) and Broadband Network Gateways (BNGs). The AGF provides AAA services plus hierarchical traffic shaping and policing for fixed network (FN) and 5G residential gateways (RGs) being served from a standard 3GPP User Plane Function (UPF) within a common 5G Core (5GC). While policy and subscriber databases are distinct elements in today's wireline broadband networks, the adoption of a 5G Service Based Architecture (SBA) enables resources, such as the policy control function (PCF) and authentication server function (AUSF) to be shared across mobile, fixed wireless and wireline access networks. It also easily supports shared supporting infrastructure, such as the IP Multimedia Subsystem (IMS) for rich multimedia service delivery.
The current scope of WWC inititives are limited to providing service continuity between the 5G core and residiential gateways supported by wireless, optical, copper or HFC. 3GPP Release 17 specifications may look towards extending the initiative to individual services in the home. This would compete with proprietory over-the-top approaches in providing a consistent, access-agnostic, policy-driven service experience, like that delivered by the closed Apple ecosystem.
Click here for complete information about Metaswitch 5G Core solutions.