Recognizing the underutilization of a 3.5GHz spectrum range reserved for US Navy radar systems, the Federal Communications Commission (FCC) release a 150MHz-wide broadcast band (3550MHz to 3700MHz) for public use in commercial wireless services. Open to network operators with and without existing licensed spectrum, the Citizens Broadband Radio Service (CBRS) is a lightly licensed band that features a dynamic spectrum access system (SAS) which manages the allocation of frequencies in this shared range.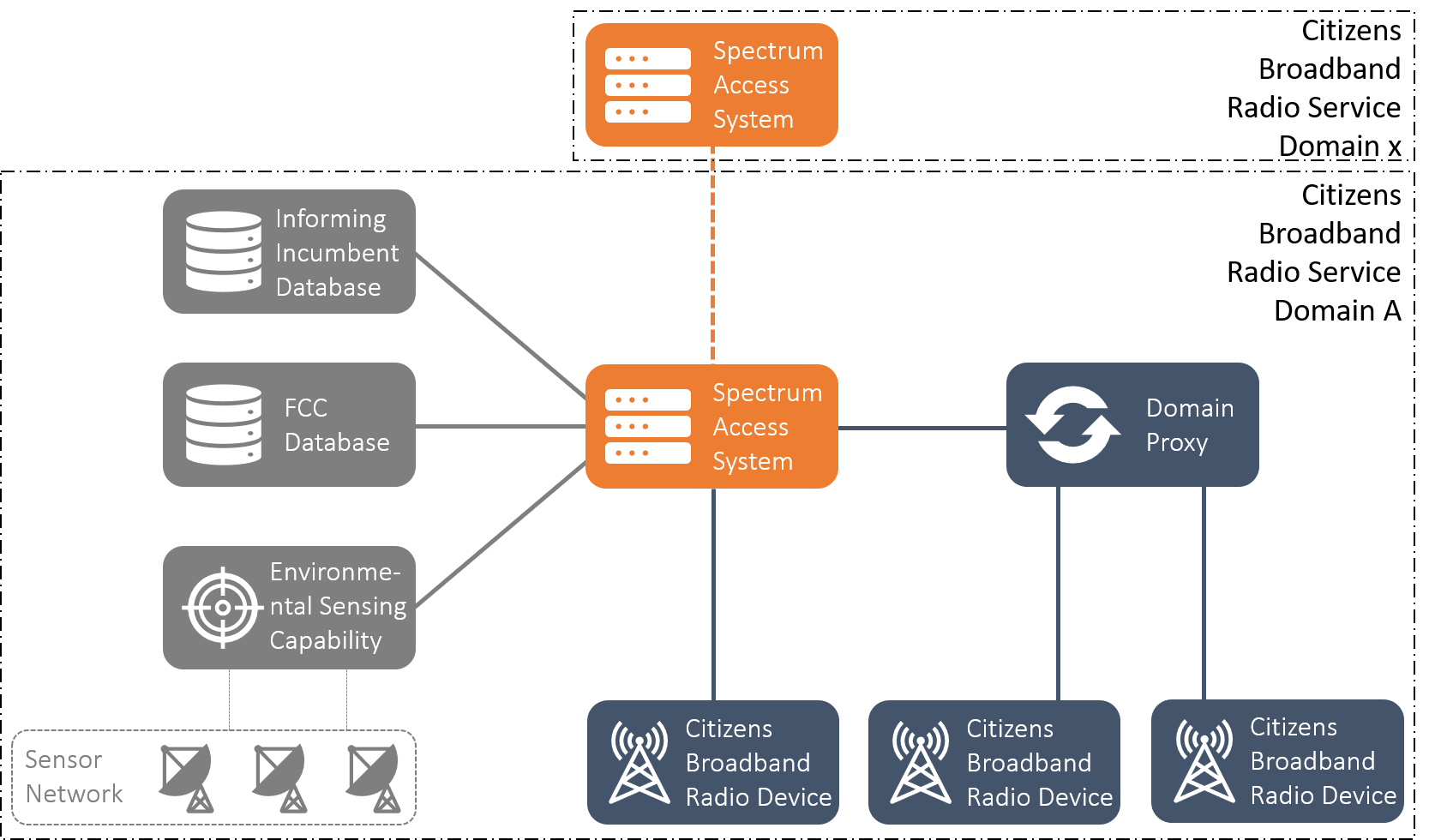 The Citizens Broadband Radio Service (CBRS) Control Architecture
This unique approach enables the most efficient use of available resources and reduces the occurrences of co-channel and adjacent-channel interference while also affording a three-tiered access priority arrangement. This ensures incumbent and government systems, such as the Navy radar, gets priority over licensed operators in the coastal regions where it is employed. Those commercial service providers obtain a priority access license (PAL) which, in turn, gets them precedence over those building pure private wireless networks. Those networks are referred to as having general authorized access (GAA).
Each CBRS domain must include a spectrum access system, which is why the band is referred to as being lightly licensed, rather than unlicensed like the 2.5GHz and 5GHz Wi-Fi bands. Along with connecting to FCC databases and other incumbent reporting systems, the SAS interfaces with environmental sensing capability (ESC) systems which can automatically detect the use of radar in a specific area.
While the Citizens Broadband Radio Service can be used for 4G LTE, it is ideally suited to delivering fixed or mobile 5G new radio (5GNR). Specifically, CBRS can be employed by enterprise IT providers to build-out a private LTE network supporting large warehouse facilities, sports stadiums and remote mines. CBRS can replace existing distributed antenna systems, providing high-speed data offload and in-building coverage. This will be particularly important when deploying 5GNR in the GHz spectrum, where CBRS can offset the significant signal degradation experienced when traversing general construction materials.
The component supporting a CBRS antenna or antenna array, in the case or a MIMO system, is referred to as a Citizens Broadband Radio Service Device (CBSD). Each CBSD's registers with a SAS and subsequently requests its spectrum grant. The parameters specified in the grant includes the allocated radio channels (frequency range) and the required Effective Isotropic Radiated Power (EIRP), or the maximum power level at which the device can transmit. The CSBD must also identify its unique geolocation, height, whether it is deployed indoors or outside and the unique call sign which was obtained when originally registering the antenna with the FCC via the fixed satellite service (FSS) program.
The protocol employed between the CBSD and SAS is based on HTTPS, ensuring that a message is mutually authenticated. There are six message types in total - each with a request and a response - which are encoded using JavaScript Object Notation (JSON). The response codes identify any errors during the registration and grant process, including baring the CBSD from CBRS operation should the device be blocklisted by the FCC.
Whether supporting LTE or 5GNR, standalone CBRS implementations supporting private mobile services, for example, are ideal candidates for a modern 5G core (5GC) data infrastructure. Deployed using totally cloud native methodologies with complete control and user plane separation, 5GC components can be dynamically deployed and managed in lightweight Linux container environments within public, private or hybrid data centers.