The telecom industry is facing its biggest disruption. The move to SDN, NFV and virtualization is revolutionary, yet indispensable for any telecom operator. However, the current industry discussions have mainly focused on the technology, with little or no dialogue on the operational side.
There is more to the virtualization than technology. It needs operational processes—new skill sets, changed business processes and new vendor relationship models that will enable an organization to migrate effectively and seamlessly to virtualization. Collectively, we may call it "Organizational Readiness Plan." ACG has done an extensive study in this space. On top of ACG expertise in this regard, it also engaged with multiple Tier 1 and Tier 2 telcos to gather their views on these non-technical yet important issues.
Through this white paper, ACG analyzes what these new telco processes would look like in five to ten years and how a telco can effectively prepare for them.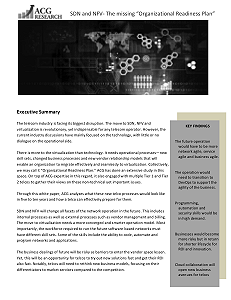 It's great to meet you!
Please enter your details in the form below.