Superior security protection against attacks, including DDoS, fuzzing or malformed packet attacks

Support for HD codecs, efficient transcoding, Comfort Noise (CN), silence suppression and voice quality-based routing allows intelligent voice service delivery

Extensive interoperability capabilities, SIP and SDP message manipulation
Support for multi-tenancy enables onboarding multiple enterprises on a single SBC instance

Provides real-time analytics, troubleshooting and triaging

Built on cloud native carrier-class virtualized Perimeta session border controller
Features
Direct Routing (DR) allows interconnection of PSTN trunks with Microsoft Phone Systems enabling calls between Teams users and PSTN users. Additionally, DR provides interoperability between customer-owned telephony equipment and CSP Application Server, IMS Core, and Microsoft Teams Phone System.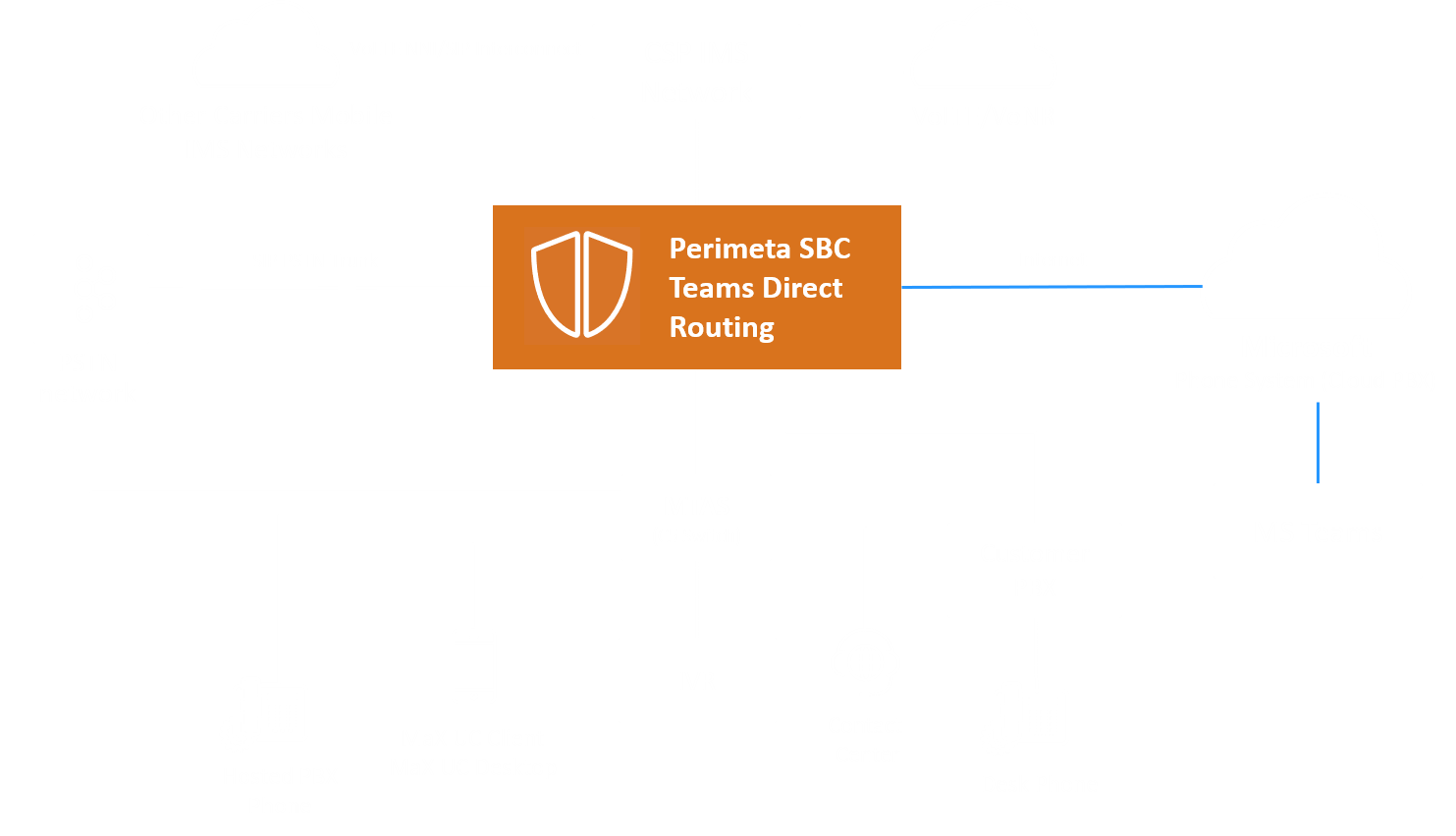 Perimeta DR certification means you can now leverage the flexibility, security, robustness and scalability inherently available on Perimeta when implementing DR to PSTN service provider SIP trunks.
Supports Teams media codec transcoding

Robust security

Extensive interworking capabilities

Comfort Noise (CN) and silence suppression

Software portability for public and private cloud or on-premises

Deployment flexibility via combined or distributed session and media plane

Automation and Orchestration

Real-time troubleshooting, triaging and voice quality monitoring (VQM)

Ringback tones support

Built-in support for multi-tenancy

Integrate Teams Phone System with other PBX and Hosted UC users
Why use Metaswitch's Perimeta SBC for Microsoft Teams Direct Routing?
Connecting Microsoft Teams with a service provider's PSTN network using a Direct Routing SBC can create challenges in terms of deployment model, security, configuration, interworking and interoperability. Perimeta SBC solves all these problems, while making your investment future-proof for a multitude of use-cases.

Perimeta meets the challenges of today's networks with capabilities that deliver sophisticated network security, advanced management of packet throughput under all load conditions, extensive protocol interworking and normalization, and complete packet analysis for in-depth problem isolation and repair.

Supports decomposed signaling and media functions: Allows dynamic scaling of signaling and media traffic independently and on-demand that can lead to a threefold increase in efficiency.

Encryption, authentication and dynamic blacklisting: Superior protection against attacks, including DDoS, fuzzing or malformed packet attacks.

Unparalleled voice quality experience: Support for HD codecs and efficient transcoding, Comfort Noise (CN), silence suppression, voice quality-based routing allows customers to deliver voice intelligently.

Extensive interoperability capabilities: Support for robust MMF (Message Manipulation Function) simplifies communication between different networks and endpoints. Enables multiple types of networks, protocols, and devices to work together seamlessly.

Real-time analytics, troubleshooting and triaging: Network operators can quickly identify and resolve issues with audio and signaling using voice quality metrics (VQM), including packet loss, jitter, delay and MOS. These metrics also allow you to continually track your performance against crucial key performance indicators (KPIs).

Multi-purpose SBC: Perimeta's flexibility makes it the only and the last SBC you will need. It meets myriad needs for enterprises and carriers, including Microsoft Teams DR, Access SBC (whether in NGN or IMS networks), SIP Interconnect and VoLTE NNI (IBCF/TrGW).