Some days I pick up my phone and I've so many apps I don't know where to start looking. It used to be that you had two main ports of call - your web browser which got you to the front door of every store on the internet, and your email which gave you all the exciting results of your recent bout of online shopping. "You've got mail!" meant your order was confirmed or, better still, your package was on its way.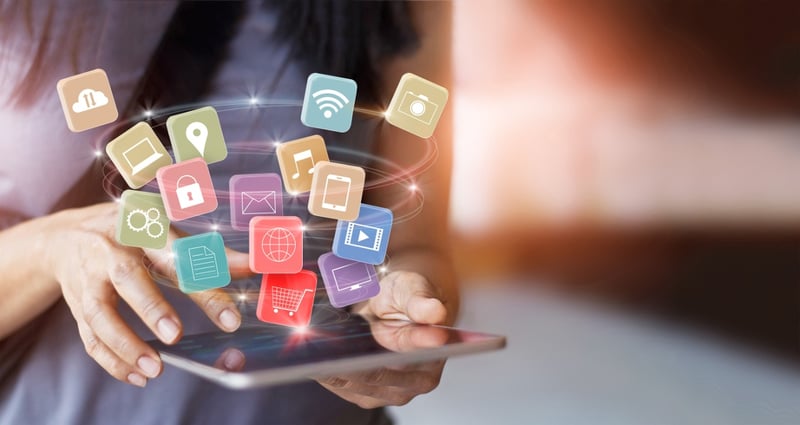 Now the ubiquity of messaging creates a new entry point. There's still an app for everything - an app for Amazon and an app for eBay, an app for Uber and an app for British Airways - all wanting to send you notifications for their app. But consumers are so bombarded with apps and their notifications that many don't even download them anymore, or just silence them into the background. Messaging apps, meanwhile, have exploded in popularity. Consumers use them as a single place to catch up with friends, family and business colleagues. Their notifications rarely go unnoticed. This growth in messaging means the small retailers, restaurateurs, plumbers, the local cafe or any other SoHo local or micro businesses have the opportunity to get back in front of consumers with a messaging presence. They don't need to build or ask consumers to download an app just for them. Messaging has leveled the playing field for the small business. With so many consumers using messaging apps every day, businesses can move to where their customers are - and, once there, start to take advantage conversational commerce.
There's no doubt that good customer service is key to good business but there's also no denying that good customer service is costly. The telephone IVR, while derided by many consumers as the worst experience of having to call "Big Business™", represented a key reduction in staff costs which got consumers to the right agent more quickly. Win-win. Chat, with or without AI driven chatbots, represent an even greater opportunity to let consumers engage with your business using the method they love most. When riding on the train, you can be certain they don't want to be yelling at your IVR or waiting endlessly on-hold, but firing off a short few messages to your business to confirm that their product return has been received is only going to bring smiles - and it didn't require any staff to handle the query.
Voice calls aren't dead though. Consumers still like to call and talk with businesses - especially small and local enterprises. Phone numbers are still what goes into the local mailers, Google maps and the side of your car. A stock inquiry, or a request for a recommendation, will often start with a phone call but given modern behaviours will conclude with an online commerce transaction. The call could be handled by anyone in the business through the use of a MobileUC multi-line solution and the consumer could be presented with web pages on their mobile phone in real-time as the conversation progresses, with pictures of the products being recommended. This rich calling experience is the essential hallmark of the integration of modern messaging, classic customer service and the power of the mobile network that we all now carry in the palm of our hands. As our digital behavior evolves, businesses can reshape their services to stay relevant and take advantage of the opportunity presented by the continuous change.
This is just the beginning of the next age of commerce. Business service models will evolve to present easy ways of shopping (without requiring an app), live-agent customer support and great experiences. All leading to recommendations to friends, to family, to business colleagues - probably via a messaging app!
Metaswitch continues to bring such innovations to market via global service providers. Our Mobile UC solution is enabling a new service called Business Groups which, provides small and micro-businesses a complete mobile solution to manage their business identity, provide voice and messaging connectivity to their customers, and provide a better service by ensuring that the entire staff (permanent or temporary) can serve that customer. Web Hooks is an innovation we are bringing to market to establish that enhanced touch point for your customer experience and power your commerce for the messaging generation.