Developed by CreaLog.
Financial Regulators across the globe are enacting regulation that requires the recording of mobile phone conversations of finance sector professionals. With Mobile Call Recording (MCR) Telcos can take the complexity out of compliance for their bank customers with a new generation of mobile call recording solutions.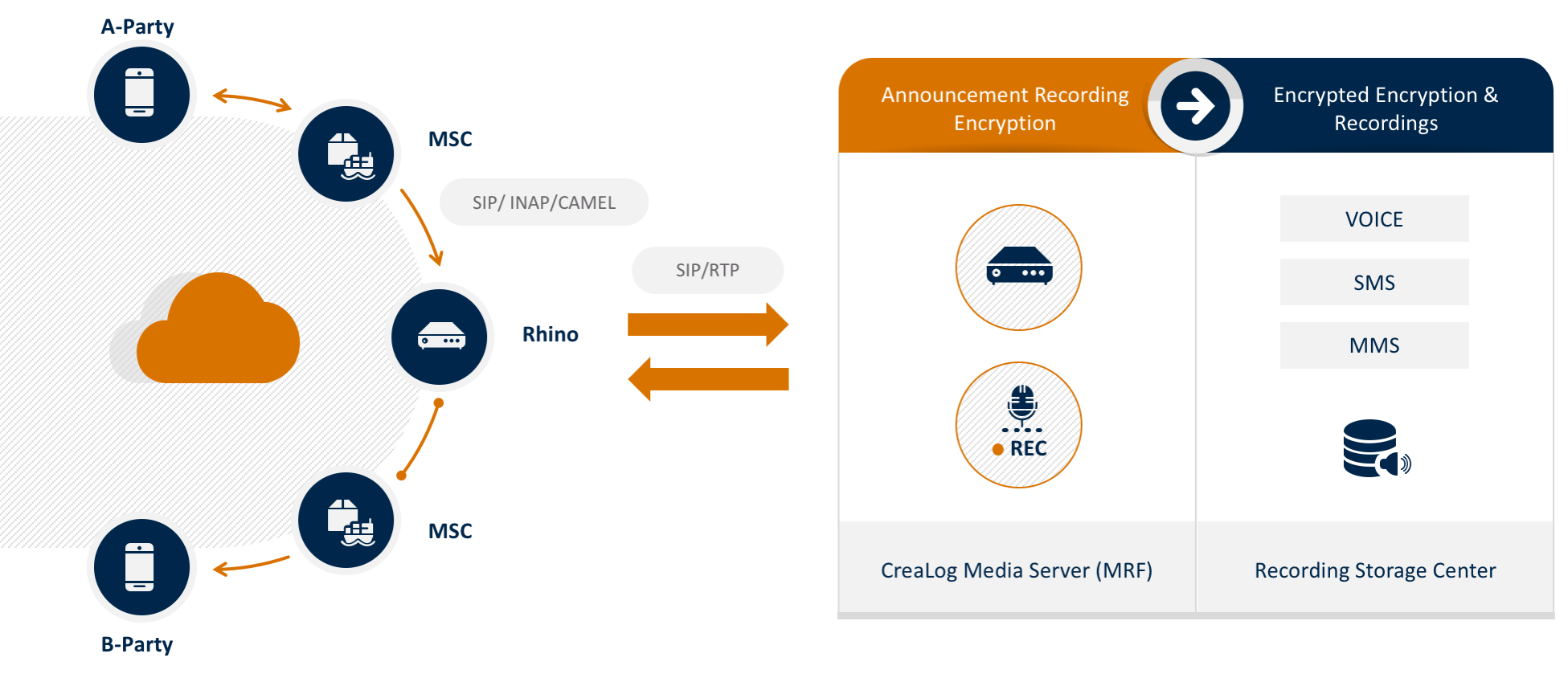 Around the world, the obligation of financial institutions to record telephone calls and data transfers (SMS, MMS, etc.) of their staff members involved in securities trading is being extended to also include mobile networks. With MCR network operators can offer the technical means for the banking industry to comply with their legal obligation to record mobile telephone calls, SMS, MMS and thus open up an opportunity to implement and charge for a completely new range of services.
The MCR solution consist out of these core functionalities:
Provisioning
Network triggering
Announcement and Recording
Encryption
Storage & Retrieval
First the MCR customers have to activate subscribers (MSISDNs) allocated to their staff members and configure their own announcements ("This call is being recorded.") by themselves. The MCR service is monitored for activated MSISDNs in the carrier's network using a permanent trigger. If a call is one that needs to be recorded the Rhino server will route it to the CreaLog Media Server (MRF) acting as recorder. MRF encrypts the complete call, SMS or MMS along with its meta data as part of the MP3 coding using a pair of encryption keys - one of which is public, the other private (bank owned). Both metadata and recording will be either stored in cloud- or on premise-based Recording Storage Center for up to 10 years. Searching for recordings made by the Mobile Call Recording platform is exclusively restricted to the network operator's corporate customer (bank, insurance company, law firm, etc.). They can use a secure Telco Extranet for this purpose. Specific filter settings and Speech Analytics help to find the recordings for audit reasons, reports or quality management.